By: David Hamburger : SLP Engineering, Inc.

New York City - As part of the marketing promotion for "X-Men, The Movie", X-Men Productions has selected the 2001 model 10th Anniversary Trans Am Firehawk as Show Car for the movie, which will open in theaters nationwide July 14th.

During a series of media activities held July 8-10 in New York City, SLP Engineering premiered its one-of-a-kind Firehawk that featured images depicting certain members of the movie cast.

"We're thrilled to play a small role in the overall promotion of what many believe will be the next blockbuster movie franchise," noted Reg Harris, marketing director for SLP Engineering, the automotive industry's largest, high performance, niche vehicle car company.

The one of a kind Trans Am Firehawk features the following content:



Special X-Men graphics on the hood, lower portion of the doors and rear of car

Dual gold stripes on the hood with a V-Shaped image of the X-Men centered between the stripes

Unique rear deck spoiler with gold stripes

Gold Painted, Five-Spoke, 17" Wheels

High Performance Exhaust System with Gold-Painted Outlet Tips

335-Horsepower LS1 V8 engine


Over the last decade, SLP has modified more than 25,000* Firebirds and Camaros for General Motors Corporation Pontiac and Chevrolet division dealers. "However, this special black and gold Firehawk is, without a doubt, the most unique vehicle we've ever created," noted Harris.

While SLP created the special vehicle to help promote the cinematic interpretation of "X-Men", the world's most popular comic book series, Harris added, "We also fully expect to sell a minimum of 1,000 tenth anniversary Firehawks in the 2001 model year. Each anniversary Firehawk will be black with gold stripes, all-new rear spoiler and 17" gold wheels, along with a number of other special features."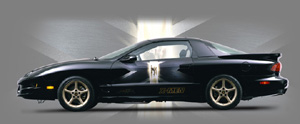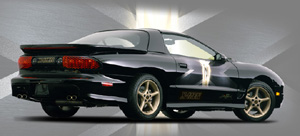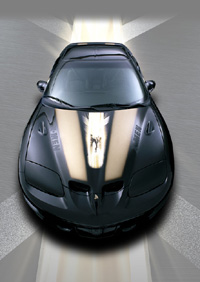 Although the car does not appear in the movie, it was showcased during recent 20th Century Fox media activities at The Essex House Hotel in New York City, where it served as the backdrop for interviews and photo sessions. Going forward, SLP's Trans Am Firehawk will be highlighted at upcoming X-Men promotional venues, such as national comic book collectors' conventions.